Liz Gross outlines 'Five Essential Documents for a Strategic Social Media Program'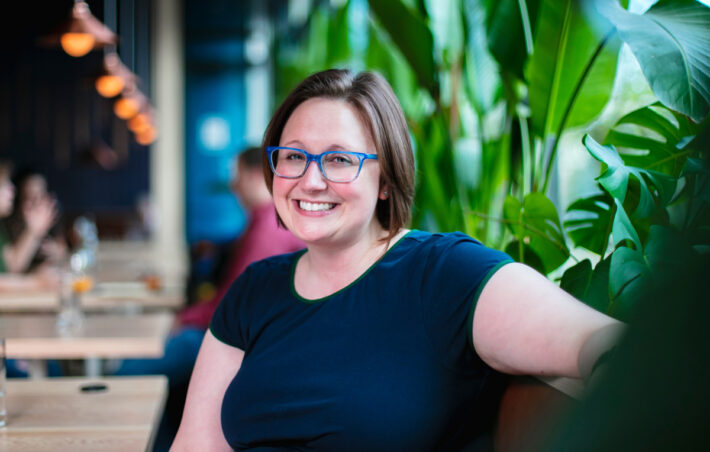 In 2012, Liz Gross was a marketing communications director for the University of Wisconsin-Waukesha (now the University of Wisconsin-Milwaukee at Waukesha). She attended her first HighEdWeb Conference – conveniently next door, in Milwaukee – and presented a poster she fondly recalls was "made by hand with glue and construction paper."
A lot changed in eight years. Today, Liz is CEO of Campus Sonar, the higher education social media firm she founded in 2017. And last fall, she presented the Red Stapler Award-winning "Five Essential Documents for a Strategic Social Media Program" to hundreds of people during the virtual 2020 HighEdWeb Conference (no glue or construction paper involved, this time). She recently spoke with Link writer Kristin Hanson about her presentation – and her favorite HighEdWeb moments.
Link: What are three takeaways you hope audiences get from your presentation?
Liz:
Boring documentation actually frees you up to be creative and effective.
You don't have to start from scratch on any of this. In my presentation and looking at examples of other folks, there are frameworks you can work from. It doesn't have to be super daunting.
Documentation like this is a big part of legitimizing the purpose of social media in your organization.
Link: If you had to prioritize those five essential documents to a social media manager just getting started, which is the most essential?
Liz: The strategic overview. You have to understand the why of what you're doing before you get into the what of what you're doing. Folks who are overwhelmed jump into getting things done. In social media, that's posting things and working with the platforms. But you need time to think. Make sure what you're doing is aligned with the goals of the people who hired you. That's something that can be done fairly quickly if you have the right conversations with the right people. It doesn't have to be a massive document, just one or two pages is fine.
Link: What are some additional resources you'd recommend for someone hoping to improve their social media governance?
Liz: Everything in this presentation is discussed in more detail in the book that we (Campus Sonar) released last fall. Within the book, there's a resource library in the back that has full documentation of the strategic overview and guidance and policies from two different campuses I've worked with.
Link: Switching gears: What's the best part of being a HighEdWeb member to you?
Liz: What differentiates HighEdWeb for me is the openness and accessibility of the people who are involved. We always know, whether you're a campus professional or a sponsor, that we're going to have conversations at HighEdWeb. We're going to teach people something and we're going to learn something. We really focus on elevating the expertise of the community. And I've made some phenomenal friends in the HighEdWeb community – which isn't a bad side effect.
Link: Do you have a favorite HighEdWeb Conference moment?
Liz: Yes, in 2017, in Hartford. My favorite moment from that conference was when Day Kibilds (manager of undergraduate recruitment at Western University in Canada) got Best of Conference for her presentation. No one was supposed to give an acceptance speech, but she pushed her way forward. I didn't know Day at the time. When she gave that speech, she talked about what it meant to her personally, the personal journey for her family. But she also highlighted one specific HighEdWeb member who'd mentored her and encouraged her to present, Ashley Budd (director of digital marketing at Cornell University). It was a beautiful example of how this community is always giving back to itself.
Link: What did you enjoy most about the 2020 HighEdWeb conference?
Liz: It was a bummer that we didn't get to see each other in person, but of all the virtual events I attended in 2020, HighEdWeb's was the best. It was the best run, best concepted, most accessible. I could never have imagined that I'd be able to give a presentation like this to 300-400 people and answer a live Q&A while I was presenting. I'm really thankful I got to make this presentation in a virtual environment. It provided a different sort of engagement opportunity that wouldn't have been possible in an in-person conference. Although I hope we can see everyone in person again as soon as possible, 2020 HighEdWeb was a great conference.
This is the first post in a series of Q&As with 2020 recipients of the Red Stapler Award. Check back for more conversations with this year's Red Stapler winners. 
Current HighEdWeb institutional, professional-premium, affiliate and student members can find recordings and slides from the 2020 Annual Conference in the Professional Development Library. The HighEdWeb 2021 Annual Conference is going virtual, Oct. 4-5, 2021. Learn more: 2021.highedweb.org.