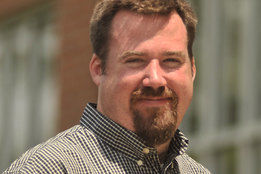 We asked our HEWeb community, who is your #HEWebHero?
Erik Runyon recommended Dave Olsen, assistant director of digital marketing technology at West Virginia University. Dave is part of WVU's university relations team and works closely with admissions on enrollment marketing. This spring, that was all about virtual events. We caught up with Dave to ask how WVU pulled off successful events for accepted students, and how his team is thinking about as a new recruitment cycle gets underway.
Link: What was your role in moving WVU's Decision Day to a virtual event?
Dave: 
I was the technical and creative lead for all of the virtual event web components except for the day-of livestreams. I developed an outline for the event site and determined how our tech and content would support that vision. A spent a bit of time building out new content types (e.g. 360 panoramas) in our content hub. It's built on top of Contentful and Amazon Web Services (AWS). I also updated our design patterns to match new fields. It was like a trip down CSS memory lane. Myself and our lead writer also wrangled loads of new content from stakeholders. They were great about buying into this vision for a reimagined 
Decide Day
. Concept to delivery was about three weeks!
Link: How was the event structured?
Dave: The core of the event was three livestreams that were held roughly back-to-back-to-back. We also encouraged stakeholders to offer "appointments" during the day (and after). Students and their families could sign-up for these appointments using SignUpGenius. It was definitely supposed to be an entire day of activity but we only saw real interactions during that four hour window when we had the livestreams.
Link: What would you do differently, or have you done differently on subsequent events?
Dave
: Our colleges and schools produced lots of great content. I think I placed it behind a quasi-mystery meat navigation element that meant that that content didn't get the eyeballs it deserved. The good news is that we've found ways to re-use the content in a more "evergreen" fashion through 
our resource pages
.
I also think we needed a much faster follow-up for those students who registered to the event. We weren't proactive enough. I think we sometimes get stuck in a mindset of "Well, we built it and the students were introduced to the site before the event so they'll come back on their own." We need to do a better job of hand-holding through an overwhelming process.
One interesting thing out of this is that I don't think we can rely on "events" but we need to be better 365 days of the year. We have an event called "New Student Orientation" and I've half-joked that we need to think of it as lowercase new student orientation and it's longer than a day. Lessons learned from this single day are informing our efforts for the 2021 class. Hopefully that starts on the day that they get their acceptance.
Link: What was the response from admitted students?
Dave: We sent out a survey after the event and we got solid marks for our efforts. There was praise for having an online event on the same day that the on-campus event was supposed to be held. I took pride in families calling the event well-organized. There were plenty of questions during the live event and number of appointment sign-up forms were completely booked. We had a good number of deposits after the event which is obviously what we were looking for.
Link: Dave What is WVU planning (or maybe thinking about) for summer and fall visits?
Dave
: This past fall and spring we had a "roadshow" where we visited select markets with experts from WVU for meet and greets. We called this tour "Ask Us Anything." We've continued this online with a series of 
livestreams for admitted students
. We fully expect this to continue through the summer and it'll be expanded to include our fall 2021 leads. We do have 
meet
 and greets with our tour guides
. That said, I think our goal is to improve all of our touchpoints to show how a WVU degree can help a student reach their goals. These events are just one arrow in our online resources quiver. Shifting away from "virtual" to "this is just how business is done" is on my mind more than anything else.
Link: Has COVID-19 changed the way you think about your role as a marketing technologist?
Dave: The funny thing is that I became a manager at almost the same time as we were sent to work from home. It's difficult for me to say it was COVID-19 or the new responsibilities that changed how I think about my role. I feel like I'm more of a connector now. I definitely still implement new features in our tech stack but I've learned a) how much content drives what we do and b) how to be thoughtful about the effort others are putting into projects. Yes, these things are critical but they're not that critical. Communicating and laying out ideas are more important than just a whiz-bang feature (see mystery meat above).
Link: Who is your #HEWebHero?
Dave: Dave Cameron from Ithaca College (not the former prime minister) is my #HEWebHero. His talk (from 2014?! fact-check that one) about being human has had a lasting impact on me. I don't think there's a week where I don't reflect on that concept, how I can act better towards others and be more forgiving about my own "failures." Good content lasts forever.
Think someone should be nominated? Bring some good to your Twitter feed and use #HEWebHero to recognize someone who deserves it!