Patrick Kelly's Red Stapler-winning presentation Get Comfortable With AI lived up to its title for me.
I admit that, as a creative writer and proud ideas person, I'm still a bit conflicted about AI and how it relates to my work. When it came time to choose a session in this time slot, I was hesitant to pick this one. But the title of the session, the promise of "getting comfortable" with a new(ish) technology ultimately won me over.
In 45 minutes, Patrick — who is the web content manager at Harper College — covered an incredibly wide range of information, including live-testing some AI tools and resources. But before he dove into that, he revisited his career path, which began as a then-recent college graduate with an English degree. It was the early 2000s and he'd taken a position with a medical center's publications team which ultimately paved the way for his web career. At the time, though, using email at work and All Things Web was new, an experience he likened to grappling with AI today:
It's still pretty new
It's a little intimidating
It's used by students for almost everything
It's rapidly evolving
It's affecting everyone personally and professionally
After seeing those bullet points, the title of his talk — Get Comfortable With AI — suddenly had a whole other layer of meaning. We've been here before. And we got comfortable.
Session Overview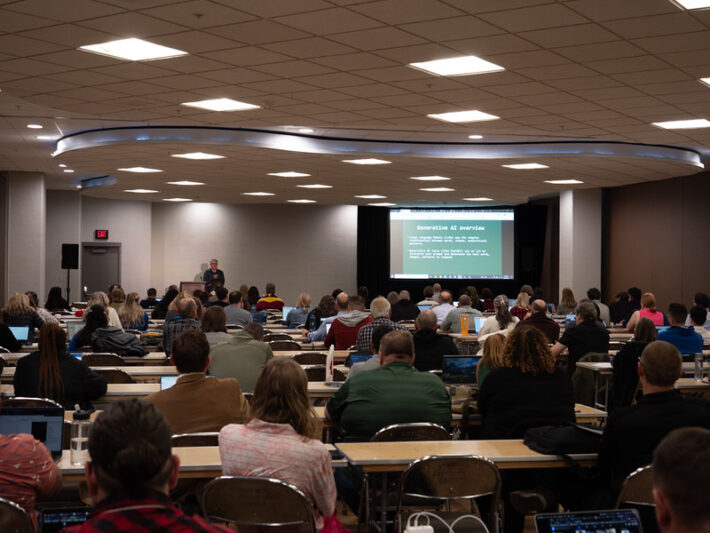 Patrick covered a LOT of ground in less than an hour and this post will give just a glimpse. After giving a basic introduction to large language models (LLMs) and listing a few common tools he's tried, he laid out the ways higher education could use AI tools from both a user and administrator perspective. After this, he issued a challenge to attendees:
USE GENERATIVE AI FOR THE NEXT TASK OR PROBLEM YOU HAVE TO SOLVE!
Then, he dove deeper into each of the tools he listed earlier, often giving a live demonstration or walk-through in a higher ed context. (If you're a member of HighEdWeb you'll have access to view the entire presentation, so be sure to give it a watch.) Here's a brief recap of AI tools.
ChatGPT
Patrick asked ChatGPT — he was using the paid version, ChatGPT 4 — to create a table with a ton of information (such as average test scores and tuition) for every college in Iowa in order to quickly compare options.
The result showed there was a lot of outdated or wrong information, likely scraped from old web pages (often not controlled by the schools themselves). He noted, however, that getting unreliable information from an AI-powered tool really isn't all that different from some (poor) SERPs. These results also do not share sources.
A key takeaway from this exercise was, as Patrick explained, prospective students will be using these tools to search for college information.
"We have to be ready," he said, for what they may find.
Firefly (Adobe)
This generative, visual AI tool from Adobe is reminiscent of some of the features you might find in PhotoShop. During the demonstration, Patrick first used the generative fill tool. He showed a photo of a building on the Harper campus that was obstructed by a light pole. He used Firefly to remove the pole; in the process of the fill, it misnamed the school as "Harper Colleger." (Note the stray "r" at the end.) Otherwise, the fill looked realistic. In another image of an empty campus, he used the tool to insert students. And a squirrel!
In addition to editing, Firefly can also generate "original" images with a Text to Image tool. Patrick, who admitted that he loves challenging these generative tools, gave Firefly some details about himself via a brief bio, including his love of volleyball and what kind of dog he had. Then, he showed the art image (you can also choose "photograph") that was generated and he got a laugh from attendees when he quipped, "Somehow it knew I was a middle-aged male."
Content created with Adobe Firefly comes with content credentials.
Bard (Google)
To give us a peek at Bard, powered by Google — and show how it could aid SEO research — Patrick gave a prompt relating to a specific URL: "What keywords generate impressions but aren't on the page."
The result showed a few items including "bachelor's degree." But Harper College doesn't offer four-year programs. After closer inspection, he determined that some content on the website, that Harper offers a "variety of degree programs" was misunderstood.
This shows that AI doesn't always have the context it needs to navigate the nuances of higher ed. However, it also highlights that people might indeed land on this page looking for bachelor's degrees. This elevates how what might seem like a "throwaway line" could inadvertently cause people to bounce.
Patrick said the main pro of Bard is that it knows Google's tools and best practices.
Jasper.ai
Jasper AI is aimed at marketing folks in that it generates content using a variety of templates, such as blog posts or emails. (This is compared to other tools where you have to specifically prompt it for a specific format or style.) Patrick also explained that this subscription-based tool can learn your brand messaging and other style preferences over time.
Patrick explained that he had an SEO-oriented project at Harper where he needed to write intro copy for 70+ pages of career-related information that otherwise didn't have much text. After a lot of trial and error with prompts and additional career-related keyword research performed by his student team, Jasper delivered some usable "starter" content that needed to be strengthened significantly.
In short, despite being detailed, it was still generic and sometimes over-the-top; adding in school and location information helped address the weak copy. In all, Patrick explained that the tool was helpful, but the copy generated "was not exactly innovative or interesting."
Bing Chat
Patrick didn't delve into this one, likely for the sake of time. However, he commented that Bing's AI tool provides sources (unlike ChatGPT) and is more up to date.
***
In the end, Patrick discovered — and got comfortable with! — how AI can help his institution's web efforts. In closing, he encouraged conference attendees to:
Find out what AI is saying about your organization
Develop pages/content on your website that will help AI discovery
My fellow attendees (those in the room and watching remotely) seemed to also enjoy the session and likely became a bit more comfortable with AI in the process. And, based on conference surveys, Patrick's session won Best in Track and was repeated on Wednesday to a new crew of attendees.
---
Recap Bonus: Fun & Games
Inspired by Patrick's Firefly Text to Image experience, I headed over to the tool and put in some facts about myself.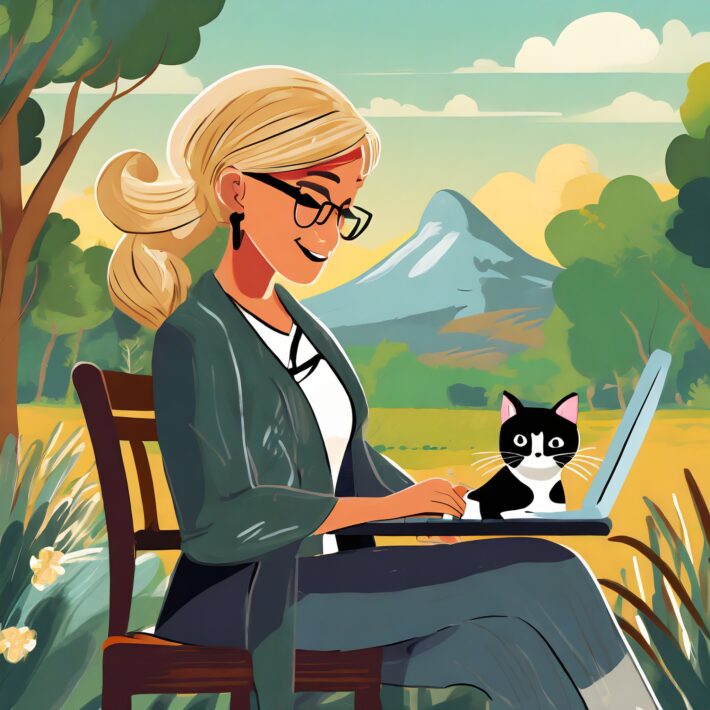 My prompt text included that I'm a freelance writer who loves nature and has a cat (I later changed it to tuxedo cat because none of the AI kittehs matched my Franklin!)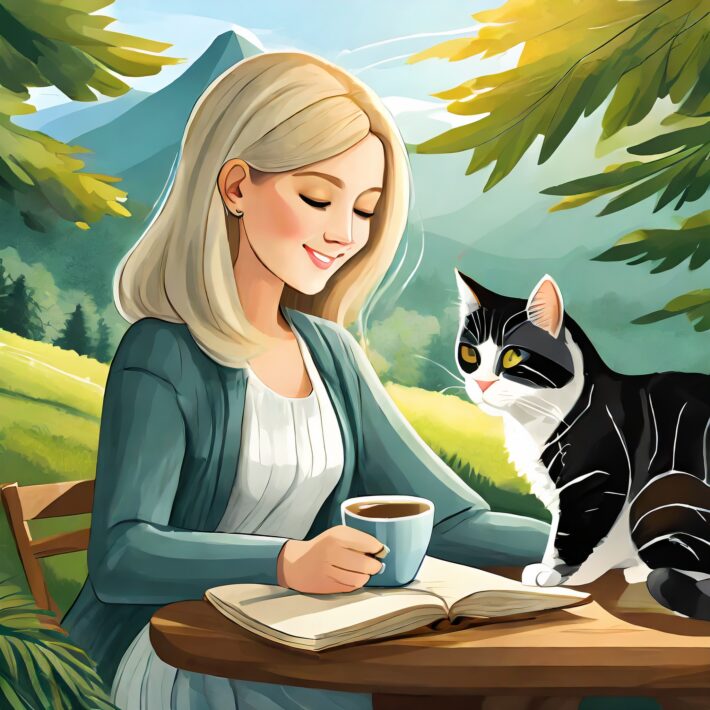 Later, out of curiosity, I changed just one word: I took out "freelance" and regenerated. It changed the laptop to a tangible notebook. Interesting!
---
Link Journal has covered the HighEdWeb Annual Conference since 2011. Explore our archives for articles about previous conference sessions.