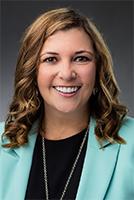 Every year, the Higher Education Web Professionals Association hosts multiple events that rely on higher education professionals to serve as presenters. The presentations can range from brief sessions to posters to workshops. Carrie Harris Phillips offers a few benefits of presenting at one of these events.
1. Fulfill a resolution
You vowed to try something new this year. Well, time is ticking. Now is your chance. Submitting a proposal and presenting is a great way to get out of your comfort zone, try something new, and stretch yourself. Go ahead. Check this resolution off your to-do list.
2. Perfect your presentation skills
If you've never presented before, submitting a proposal and presenting at HighEdWeb is a great place to start. We are a community of learners eager to grow our knowledge. And we respect people who are willing to step out and try something new. We're a safe environment to practice your public speaking skills and gain confidence in leading the conversation.
3. Share your insights
We need you. We need your talents. And your insights. And your lessons learned. If you learned something the hard way, or something is easy for you to explain, this is your chance to help the profession. We're all in this together. It will take us all to continue advancing the transformative power of education, and now is your chance to have an impact.
4. Build connections
Need more people in your network? Submitting a proposal and presenting at a conference helps you build connections with others in the field. You'll find others who share your struggles or nerd out over the same things you do. Building that network of connections could help you solve a challenge you face in the next week, month or year.
5. Elevate your institution
When you submit a proposal and present, you are bringing positive attention to your institution. Your expert insight helps raise the prestige and stature of your institution. When you succeed, your institution succeeds because it has experts speaking and leading on a national stage.
6. Serve the profession
Have you found your people? If higher education is your tribe, your ride or die, or whatever you want to call it, then submitting a proposal and speaking at a conference is a great way to support your profession. Through doing so, you're giving back and helping advance an industry and a profession that means so much to you.
7. Brush up your resume
Thinking you might want a new gig? Today, tomorrow or years from now, the outcome is the same. Conference presentations look great on a resume by helping showcase your expert knowledge to a prospective employer.
8. Stretch the budget
Tight budget. Yeah, you're not alone. However, submitting a proposal and speaking can help stretch your professional development dollars. HighEdWeb offers speaker discounts for conferences and summits, allowing you to take part in events at discounted rates.
9. Promotions happen
Are you itching for a new opportunity? If so, presenting is a great way to help get your name in front of other industry leaders. Seeing your name in the conference program and conference emails may help you be top-of-mind for that next gig you're craving.
10. We need you
Our industry is facing numerous challenges in the next decade. And we need the next wave of leaders to help higher education continue changing lives through education. Now's your chance to step up and make a difference. If you're looking for a sign to submit a proposal and present, this is it. Now is your turn, and we are ready to welcome you.
The Accessibility Summit and the Analytics Summit are the next two opportunities available by the organization to present. Submit a presentation proposal by Feb. 20.
Interested in presenting at the HighEdWeb Annual Conference? Annual Conference proposal submissions are open now.