"Can you make that into a PDF? We want to post our brochure on the website." If this request in a meeting causes an inaudible groan to scratch in your throat and your eyes itching to roll, you may be happy to hear the Accessibility Summit is now an official HighEdWeb event. Whether you are new to accessibility or a seasoned evangelist, join us for the 2020 Accessibility Summit in St. Louis, Missouri, on May 27, 2020.
57 million Americans have a disability. As higher education professionals, it is our responsibility to ensure that our online content is accessible to anyone seeking higher education. According to the 2020 Accessibility Summit conference chair George Sackett, "There is a growing appreciation of the importance of meeting accessibility guidelines and we plan on creating an event that provides a wealth of opportunity to learn more about it with the focus on higher education." In fact, at this educational one-day conference you can learn how to make your websites more accessible through code and content, share information and resources with higher education colleagues and explore accessibility in the context of content, training, and advocacy.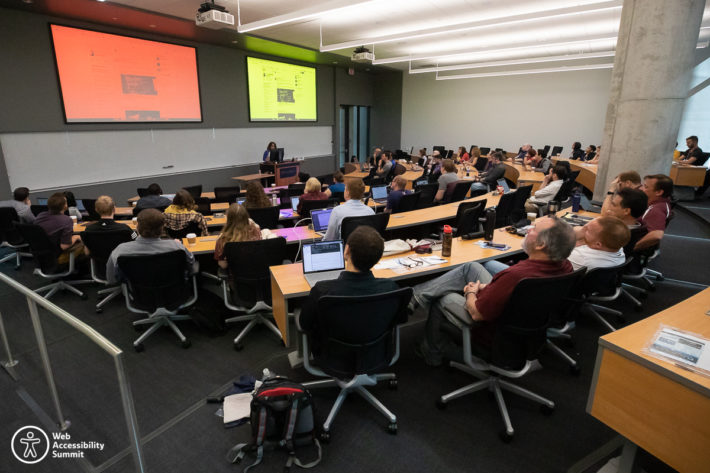 For a sampling of presentation topics, videos and slides from last year's event are available online, including an informative workshop called "Inclusive Design: The Product and Process" by Derek Featherstone, Chief Experience Officer at Level Access.
Although this annual conference has been running since 2018, it will now have the full support of HighEdWeb and exclusively focus on higher education programming and networking. "We believe that accessibility is important for everyone as it helps to move higher education forward," said Tom Wojciechowski, president of HighEdWeb. "Having a conference solely on accessibility allows our education professionals to be focused on this important topic. The 2020 Accessibility Summit is a wonderful addition to our Annual and Regional Conferences. HighEdWeb couldn't be more proud or excited to offer this to our community."
If you would like to propose a presentation or volunteer for the conference, we will have more information available in the coming months. You can also sign up for the HighEdWeb email list to stay up-to-date with association events and activities.
What are your major pain points on the topic of accessibility? Does your blood boil at the thought of an inaccessible PDF on your website? Does your institution think ARIA is a reference to the opera? Let us know in the comments.