NOTE: As part of our sponsor agreements with Annual Conference sponsors, we occasionally post information provided by our sponsor-partners on their behalf. This is one such article. Thank you and enjoy!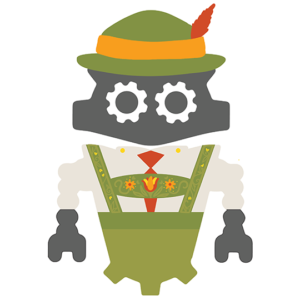 DubBot had so much fun at HighEdWeb 2018, that "Dubby" (as we affectionately refer to him) has decided to go all out for 2019. Dubby got some lederhosen and is ready for some polka! 
2019 has been a special year for DubBot. In 2018, DubBot officially went to market to serve higher education organizations. Ever since then, DubBot has become more and more a part of the community. Over 50 colleges and universities have now adopted DubBot into their processes for website maintenance.
Don't be deceived by Dubby's youthful appearance, being a young company does not mean that the people behind DubBot are new to working in higher education.
Blaine Herman, the founder of DubBot, has been to over 10 HighEdWebs! He previously worked within the content management space. He consulted with web and marketing professionals at higher education organizations for 15 years to find the right solutions for managing and maintaining their websites. It was during this time that Blaine saw a need to make an affordable software solution to ensure the content being put out on large, often decentralized websites was to the quality that schools were expecting. So DubBot was born. 
DubBot is a software solution that is intended to be your first line of defense with monitoring content for accessibility, spelling, broken links, and SEO issues.
DubBot wants you to stop by and get a limited edition sticker for HighEdWeb 2019 attendees. While you are at it, Blaine would love to discuss how you could potentially use DubBot to monitor and improve your website.