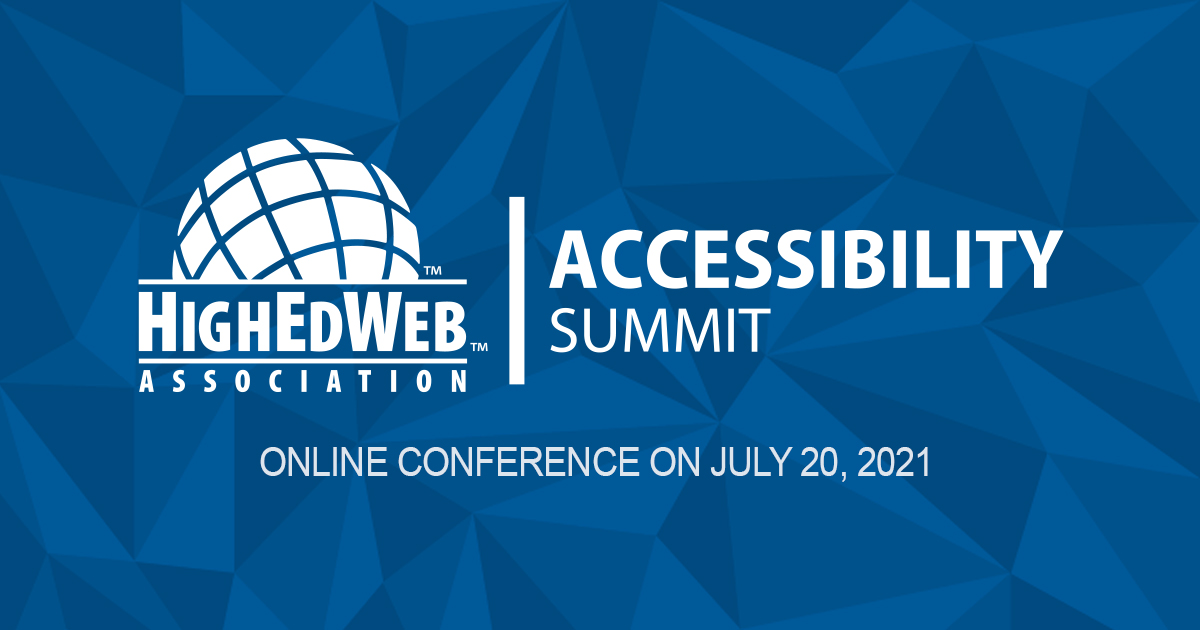 The HighEdWeb Accessibility Summit 2021 is an online event focused on the critical topic of digital accessibility in higher education. Whether you are new to the topic of accessibility or an experienced advocate in the field, join us online July 20, 2021, for a full day of learning and networking.
As higher ed web professionals and communicators, we have the responsibility to provide an accessible and inclusive experience on our websites, social media and digital communications. The Accessibility Summit exists to provide training and resources to help us improve and advance digital accessibility at our colleges and universities. 
"The power of the Web is in its universality. Access by everyone regardless of disability is an essential aspect." — Tim Berners-Lee, W3C director and inventor of the World Wide Web
This year's Accessibility Summit will address a variety of topics:
Teaching accessibility

Creating accessible online forms

Audits and workflow

Social media accessibility

Online course design

And so much more
Access the complete event schedule.
Attendees will have the opportunity to network and interact with each other. Community groups will host discussions on several topics:
Document accessibility

Cognitive and learning disabilities

Checklists, guides and tools

Captioning tools and resources

Grassroots accessibility education efforts
Accessibility Summit registration is $75 and provides live access to the event, as well as on-demand access to session recordings for two weeks after the event. A discount is available for paid HighEdWeb members.
Register today, and we'll meet you online on July 20!