For today's college students, social media isn't always fun. There's a lot they have to (and should) be concerned with when it comes to their digital presence and reputations. The stakes are even higher for student-athletes, who have, in many ways, become online ambassadors for their team as well as their college or university, whether they've wanted to or not.
Oftentimes their words, posts and tweets have a much bigger impact on how a college is perceived than anything the college does on social media. But we don't often invite student-athletes to sit in on our marketing meetings or listen in on webinars about social media best practices – so how are they supposed to learn their way around?
Much like being taught how to cite sources and write a well thought out paper, students need to be educated about how to best use social media to communicate their lives. By not doing so, we're losing out on opportunities to better our students. At St. Lawrence University, our women's ice hockey program recently took it upon themselves to show us there's a great way to do this and have fun while doing so. (And who doesn't love having a little fun with social media from time to time?)
Coaching and Social Media
Chris Wells, the head women's ice hockey coach, is an avid user of social media and uses it to promote his team and their accomplishments as well as the sport of women's hockey.
"It's fun with the give and take," he says. "What better way to brand your team, organization and yourself than to send a constant consistent message that people can view on their own time?"
Passion for social media is something he and his players share, though Wells opts not to follow his student-athletes on platforms like Twitter. "Much like their lives, they need their space to grow and learn on their own," he says.
What he does believe in doing is educating them about how to best use these tools. "We as coaches educate them on the do's and don'ts just like in all of the areas we oversee them in," Wells says. "We talk to them about instances where people have benefitted from social media and where it is evident that what they have put out there is not productive."
'Saints Go Social' is Born
The idea for "Saints Go Social" came to Wells during a practice last October when the team and Wells were calling each other by their Twitter handles as they went through drills.
With the help of Athletics, Communications and Libraries and IT, Wells devised an educational and fun social media event that he knew would need two parts to be successful: The first would include inviting a guest speaker to campus to talk directly with student-athletes about using social media. The second was making one of the team's hockey games an example of how to best use social media, including behind-the-scenes YouTube videos, tweets from behind the bench and players tweeting in between periods.
Then Wells took St. Lawrence Athletics' first big effort to incorporate social media to another level: His players decided to wear jerseys with the school's Twitter handle on the front and the girls' individual handles on the back, and the announcer would use those handles throughout the game instead of a players' names.
In a sports world where coaches have banned players from using social media and 56 percent of college athletics departments don't provide any sort of social media education for student-athletes, it's a big step for an NCAA Division I coach to put his players' Twitter handles on their jerseys. But this head coach saw it as a real-world opportunity for his players to learn that what they put out there on any platform can be seen by anyone, anywhere, anytime.
The Main Event – Part I
With the support of the athletics director as well as the vice presidents in the Communications and Libraries and IT divisions, St. Lawrence brought in Mark Anbinder from Cornell University to speak with the student-athletes and coaches about social media on January 30. We knew in order for the messages to get through and the education to happen, the lecture needed to go beyond telling the student-athletes things they can't do on social media. Anbinder needed to find a way to get on their level.
"I showed them some ways they could have fun with social media that they might not have thought of and gave them a few pointers they can keep in mind as they navigate Facebook and the Twitterverse and build their brands," Anbinder says. "We also talked about some cautionary tales. You don't think anything bad can happen to you until it does."
The key to Anbinder reaching the student-athletes was the way he crafted his discussion. "My biggest takeaway from the event was the speaker," says Jamie Goldsmith, a senior on the women's hockey team. "Many of us expected him to talk to us about the things we should not be doing, but Mark made it a very positive experience by promoting the things that we should be doing."
Game Day
The educational aspect of the event poured over into the game. Promotional banners were placed around the rink with tips on how to stay safe on social media and spectators were given handouts. But while all this learning was taking place, the team was showing everyone how much fun social media can be when used correctly and for the right reasons. Everything down to the team's line chart was in Twitter-speak, fully embracing a day defined by social media.
What were the results? The event was a huge hit with the players, their parents (many signed up for Twitter to follow along), the coaches, the people who helped make the event happen and even the naysayers who were skeptical about the idea. One of the best results was that it forced people to talk about social media and ask bigger questions of themselves and others. Even the radio commentators spent several minutes on air throughout the game talking about the importance of social media education not only for college students, but also even for younger generations. (To see a running account of the activities during "Saints Go Social," take a peek at our Storify of the day's events.)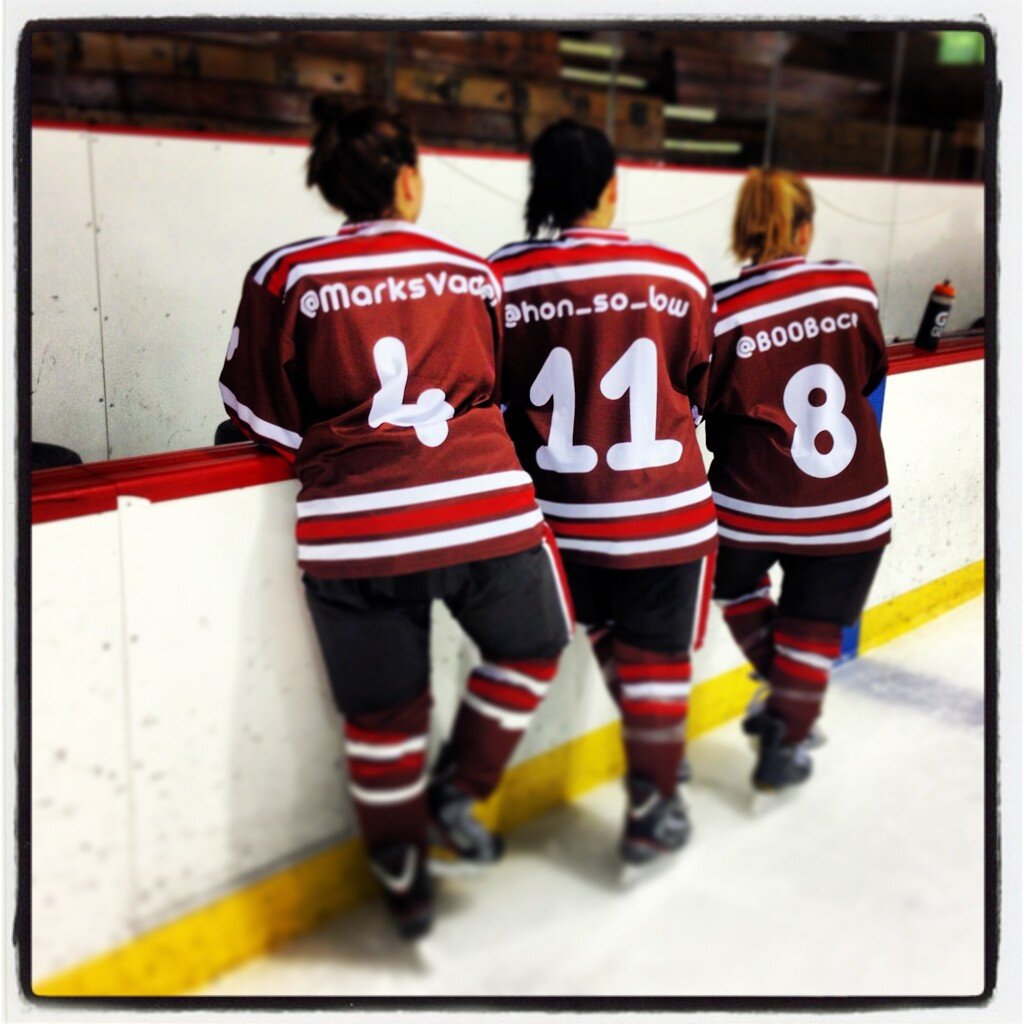 What They Learned
The players realized it was critical to take ownership of their digital presence and make sure it best reflects the personality they want to show to the world.
"My biggest takeaway from the event was that anything I post on social media is there forever," Saints hockey player and sophomore Amanda Boulier says. "I feel it successfully promoted our women's hockey program while simultaneously informing our team and other athletes about the benefits and risks of using social media."
Goldsmith adds, "Social media is a great way to promote not only yourself but the program and university you represent. It's fun for fans and can be an advantage when applying for jobs. In this day and age employers look for their applicants on all sorts of social media outlets. I think if you can be respectful on these site then it can be an asset. It is your digital identity."
What We Learned
The social media landscape changes every day, which is why the time to start looking into how we can better prepare our students for a world that is increasingly social is now. "Saints Go Social" taught us that our student-athletes and students are eager to learn how to appropriately use social media (even if they don't come right out and say so!). If we take a proactive approach to doing so and educate them in a fun, interactive way, they're much more likely to take notice, respond and make adjustments to how they use these tools – and they'll be better off for it.
"There are many things outside of hockey that we can help educate our student-athletes with and social media is one area that can really make a difference in how we as people are perceived," Wells says. "We all need to be more aware of what we put out on social media. If you choose, you can have a wonderful experience with it."
I think of it like this: Athletes need to be hydrated and nourished enough to handle the stresses of sport just as much as they need to be mentally nourished to handle life in the real world. Social media education has become a critical piece that helps shape athletes as people and in today's increasingly social environment, we can no longer deprive them of this necessity.