We asked our HEWeb community, who is your #HEWebHero? 
@CoachTiers for the weekly pep talk and reminder that as lost as we are, our students and their families are even more so and deserve more space, more attention, and more time. #HEWebHero

— Janice Cheng-McConnell (@dear_preferred) April 1, 2020
Janice nominated Jeremy Tiers, Director of Admissions Services for Tudor Collegiate Strategies. It's no wonder she recognized him for his pep talks because Jeremy has spoken at several conferences, webinars, and podcasts about enrollment marketing!
Link: Anyone who follows you on Twitter knows you're passionate about enrollment marketing – can you explain #EMChat?
Jeremy: #EMchat is an amazing community full of people who are very passionate about college and university admissions and enrollment management/marketing. It's people from the leadership level on down who work on campuses, as well as people from some of the companies that partner with them to help them reach their goals and grow. Tons of great friendships and relationships get formed because of all the back and forth and idea-sharing that happens during the week and on Thursday nights when there's a chat session on a specific topic.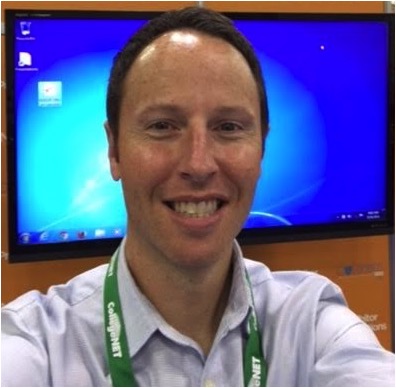 Link: We're all facing a lot of change right now. What should higher education professionals keep in mind as they communicate with students and parents?
Jeremy: It's okay to not have all the answers, none of us do. It's important, though, to control what you can control. Students, parents, and families want to be kept in the loop and they want to feel valued and heard. No matter the medium of communication you use, be personal, be empathetic, lead the conversation, be a good listener, be intentional with your questions, and just be there to help and guide them in any way you can.
Link: Do you think recruiting in higher education will be permanently disrupted, or will we be able to transition back to our old tactics?
Jeremy: Some colleges will struggle more than others, but most of those schools were probably struggling prior to COVID-19. In terms of major changes that will stick long term, the biggest one – in my opinion – will be the test-optional movement. We were already headed in that direction and this may very well be the tipping point for colleges and universities that are on the fence. Consistency and the recruiting basics were important before, they're important during this crisis, and they'll be important long after. I'm also hoping that more colleges and universities will understand the importance of developing a more relational and less transactional recruiting strategy from start to finish.
Link: What's one piece of advice you would give to graduating high school seniors as they make decisions about their next steps?
Jeremy: Finding the college or university that's the "right fit" isn't easy, especially right now during this crisis. Do your best to find the school that feels the most comfortable, where you feel supported and feel like they will prepare you for whatever future you want to have. It's okay to be scared, nervous, or worried about the future. Just know that we'll all get through this together and you will be able to start working towards a college degree soon.
Link: So, who is your #HEWebHero?
Jeremy: There are so many deserving people out there who are helping others grow. One #HEWebHero that comes to mind is Allison Turcio, who isn't afraid to push the envelope and try new things, especially when the data supports it. She consistently comes up with content that is innovative and provides value for the reader or viewer.
Think someone should be nominated? Bring some good to your Twitter feed and use #HEWebHero to recognize someone who deserves it!